Sparky & Spike: Charles Schulz and the Wildest, Smartest Dog Ever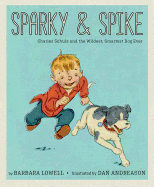 "Sparky's dog, Spike, is a white dog with black spots. He's the wildest and smartest dog ever." What makes Spike so smart? Well, he can ring a doorbell, fetch a potato and eat things like screws and handkerchiefs to no ill effect.
The other love of young Sparky's life is comics, and he dreams of becoming a cartoonist. Persevering through his insecurities, he develops a talent, and soon the kids at school are clustering around him and requesting illustrations.
One day, Sparky realizes that the newspaper comic strip Ripley's Believe It or Not! offers a way to merge his two loves: he draws a picture of Spike on a letter heralding the dog's sense of gastronomic adventure and submits it to the strip. Finally, the Sunday paper runs Sparky's illustration, supplemented with the caption "A hunting dog that eats pins, tacks, screws and razor blades is owned by C.F. Schulz, St. Paul, Minn.," and a storied career is unassumingly launched.
Sparky & Spike: Charles Schulz and the Wildest, Smartest Dog Ever features Barbara Lowell's borderline "See Spot run"-simple sentences and Dan Andreasen's Tintin-reminiscent illustrations, some in panel format, many on pixelated backgrounds, Sunday funnies-style. These beguiling nods to an earlier era may elude young readers, who needn't register these winks in order to be charmed by this double homage: to a boy's dog, and to a boy who grew up to become the beloved illustrator of the comic strip Peanuts, which starred a certain other white pooch with black spots. --Nell Beram, freelance writer and YA author