Ten Innings at Wrigley: The Wildest Ballgame Ever, with Baseball on the Brink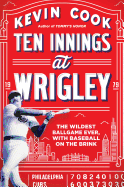 When Kevin Cook launches into the sagas of the Chicago Cubs and Philadelphia Phillies, fan partisanship gives way to the lore of two of the league's oldest teams. In Ten Innings at Wrigley, Cook delves into the culture of baseball at a tipping point through a May 17, 1979, rubber match that turned into "the wildest ballgame ever."
Cook admirably winnows remarkable team histories to set the table. The Cubs, "born to lose" and cursed by a goat, were not a big market team in 1979, with Wrigley (a character in its own right) used for other events (e.g., ski-jumping contests) to make money. The Phillies were also "lovable losers," the last original franchise yet to win a World Series. But they were on the rise with something to prove, winning three straight division titles.
The game supports an inning-by-inning and pitch-by-pitch written recounting. With winds gusting to 30 mph, six runs in the first 10 minutes, 97 total bases and a run total of 45 that stands as the second highest of all time, the garbage truck fire beyond the bleachers is a mere afterthought. Many of the game's legendary and most colorful characters were playing (Rose, Bowa, Buckner, Kingman, Maddox) on the brink of epic cultural and league changes--cable television, the high-five, facial hair, computers, labor strikes and modern metrics, to name a few. Cook seamlessly blends these issues into this reconstruction of the game and its aftermath, a slice of history fans of any team will relish. --Lauren O'Brien of Malcolm Avenue Review