The Book Woman of Troublesome Creek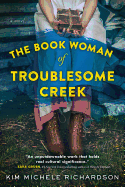 A determined and forthright Cussy Mary Carter tells her story in The Book Woman of Troublesome Creek. In her fourth novel, Kim Michele Anderson gives her a voice true to the Appalachian backwoods of "western Kaintuck" in the 1930s.
At 19, Cussy hopes to overcome a lifetime of poverty and scorn, when she joins the Works Progress Administration's Pack Horse Librarians program "to put females to work and bring literature and art into the Kaintuck man's life." Cussy got the job against her ailing coalminer father's objections that "a workin' woman will never knot." Finding her a husband will be hard enough, Pa knows, because she's a "Blue"--the last of a blue-skinned clan descended from French Blues who'd settled there four generations back. But Cussy perseveres, and on her reliable mule Junia, she's welcomed as "the Book Woman" by her patrons, whose isolated cabins are spread out for miles. In spite of her own hardships, she shares what little she has, and relishes "bringing a hopeful world into their dreary lives and dark hollers."
A heroine richly deserving of happiness, Cussy does find love and joy, but in the author's historically accurate plot it's compromised in an episode of prejudice and violence. Pack Horse librarians, Troublesome Creek and the blue-skinned people of Kentucky were all real, and their story, as Cussy tells it, is a bittersweet homage to an unusual time and place. --Cheryl Krocker McKeon, manager, Book Passage, San Francisco