A Brightness Long Ago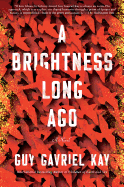 World Fantasy Award-winner Guy Gavriel Kay (Ysabel) returns to the world of Children of Earth and Sky in a standalone alternate-history adventure that revolves around Batiara, the author's version of Renaissance Italy.
Newly out of boyhood, Guidanio Cerra, a tailor's son from the city-state Seressa, finds that a quality education and his natural wit draw him into circles above his station. Engaged to serve at the court of Uberto the Beast, ruler of Mylasia, Danio recoils at his master's vicious appetites but has no power to stop him. When Adria Ripoli arrives at the court, Danio knows she has come as an assassin on behalf of her uncle Folco Cino d'Acorsi, a powerful mercenary who would love to add a port city like Mylasia to his holdings. Danio must choose whether to reveal Adria's identity or allow her to proceed, and his split-second decision brings unrest to the region.
As Folco and his rival mercenary commander Teobaldo Monticola di Remigio vie for dominance, fortune drags Danio into their paths repeatedly. At times, Adria Ripoli flashes back through his life like a bright ribbon in a windstorm. In a landscape of intrigue, political tension and murder, Danio will need every scrap of wit and luck he possesses to find his path to maturity.
Now an elderly man looking back on the passion and tumult of his youth, Danio reflects on "the choices we make. The person we become." A surefire hit for historical fiction and fantasy readers, A Brightness Long Ago further cements Kay's reputation as a wise and beguiling storyteller. --Jaclyn Fulwood, blogger at Infinite Reads