Folded Wisdom: Notes from Dad on Life, Love, and Growing Up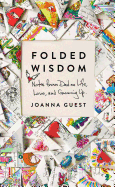 Every morning for 14 years, Bob Guest--artist, husband, father and man of routine who was "ahead of his time"--sat down to write notes to his children on a 6x9 pad of paper. Often folded like little footballs, the notes were tucked into lunchboxes or waiting on the kitchen counter. His daughter, first-time author Joanna Guest, was seven when they began. As an adult looking back at the more than 3,500 notes (out of roughly 4,775) that survived time and the family washing machine since 1995, Guest found wisdom and meaning in them that she couldn't fully appreciate as a child.
In Folded Wisdom, Guest shares the inception of the notes and how they progressed as she and her younger brother, Theo, grew older and their life problems became more complex. Bob was sparked by a desire to encourage Theo to read, and was dedicated to connecting with his kids. One of eight children of a rear admiral in the navy, Bob had a "minimal" personal relationship with his absentee father.
The notes, which often included puzzles and drawings, ranged from snippets of love and encouragement to pages of thoughts on what it means to be part of a family, deal with life and say "I'm sorry." As insightful and charming as the notes themselves, Guest's narration winds between photographs of the real deal. Folded Wisdom is a wonderful testament to love and to Bob's success in perpetuating thoughtfulness and value in expressing ourselves to others. --Lauren O'Brien of Malcolm Avenue Review