If You Cross the River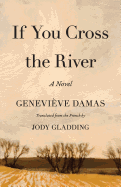 If You Cross the River is the ominous threat made to François Sorrente by his hostile father, Jacques, in Geneviève Damas's slender but excellent novel, translated by Jody Gladding. Across the river is where François's beloved older sister, Maryse, fled, and where the burnt-out remains of the Bridge Farm (so named for the wooden bridge that no longer exists) loom, mysterious and menacing. Indeed, much for the illiterate pig-tender François is mysterious and menacing. A self-proclaimed simpleton, he actually has considerably more awareness than he realizes or credits, noting, "In our house, no one cried, inside there were tears, but outside it was dry." His older brothers Jules and Arthur are cruel, his other brother Jean-Paul is dead and his mother disappeared just after his birth. Aside from his pigs, 17-year-old François is isolated and unloved.
A chance relationship with the village priest, who first reads to François and then teaches him to read on his own, offers liberation. However, the freedom is not easy, and François approaches it with trepidation: "Maybe books lie, maybe they do nothing but lie, so what's the use of reading, just to start hoping for things that won't ever happen."
Belgian author Damas's first novel unfolds quickly, but with much emotion. Readers will connect immediately with François and yearn, as he does, to uncover what happened across the river, uncover what happened to his mother and to Maryse. And while the denouement is neither wholly original nor unexpected, it still packs a satisfactory punch. --Evan M. Anderson, collection development librarian, Kirkendall Public Library, Ankeny, Iowa