Nuking the Moon: And Other Intelligence Schemes and Military Plots Left on the Drawing Board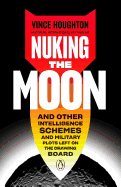 Desperation makes for poor decision making. While Cold War paranoia may have rushed Americans to the first lunar landing, it also spawned ideas like the titular project of Nuking the Moon by Vince Houghton, historian and curator of the International Spy Museum in Washington, D.C.
Houghton chronicles 21 visionary, dumb or dangerous attempts by the U.S. military and intelligence agencies to spy on, sabotage or obliterate their enemies. He divides these escapades into four parts. The first involves animal subjects, from a house cat surgically wired with microphones by the CIA to fitting bats with incendiary bombs and the use of live chickens to keep nuclear landmines warm in Central Europe. Part two reveals absurd intelligence operations, such as Operation Northwoods, which proposed staging false-flag attacks on American citizens to justify war with Cuba. Part three shines light on outlandish technology, like plans to blanket Earth's orbit with anti-missile missiles. Part four explodes into the atomic age, including nuking the Moon (with Carl Sagan's help).
Houghton explores these foibles with insightful glee. While most of these projects were deadly serious, the sheer audacity of these attempts makes for entertaining reading. Houghton's prose is breezy, punctuated by amusing asides and historical insight. Nuking the Moon: And Other Intelligence Schemes and Military Plots Left on the Drawing Board is as funny as it is frightening. --Tobias Mutter, freelance reviewer