The Farmer's Son: Calving Season on a Family Farm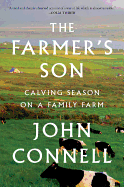 As a young Irishman with literary ambitions, John Connell couldn't wait to escape his family's farm in County Longford. But after more than a decade away, he returned to his childhood bedroom, helping his father with the tasks of calving season and tending to the family's flock of sheep. An investigative journalist who has also published short stories and a novel (The Ghost Estate), Connell turns his sharp eye to memoir in The Farmer's Son. He explores the rural setting of his childhood, the long historical relationship between human beings and cows, as well as his own (slightly more fraught) relationship with his father.
Connell's rendering of farm life--mucking out the cows' stalls, chasing down errant sheep, the actual mechanics of delivering a calf--is sober and clear-eyed. In each day, each task, each argument (spoken or unspoken) with his father, Connell weighs the pull of the land and his family's history against the grit, blood and constant uncertainty of working with livestock.
There's no glamour in farming as Connell renders it; some of the bloodier scenes are like James Herriot without the cheeky humor. But there is a kind of everyday nobility in the quiet work. Connell is able to absorb himself in the mundane details of farm life and pull back for a broader perspective on farming and farmers. His book is neither a polemic nor an elegy, but a thoughtful, often luminous portrait of an ancient, valuable way of life that is in danger of disappearing. --Katie Noah Gibson, blogger at Cakes, Tea and Dreams