With the Fire on High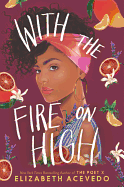 Emoni is a high school senior who got pregnant with Emma (more commonly called Babygirl) during her freshman year. 'Buela has raised them both--after her mother died, Emoni's father returned to Puerto Rico, leaving her in Philadelphia with his mother; Babygirl's father, too, tends toward missing, reappearing for every-other-weekend visits with his daughter. Despite challenging circumstances, Emoni and Babygirl are thriving in their loving three-generation household.
Emoni has "magical hands when it comes to cooking." Her "innate need to tell a story through food" helps her create "straight bottled goodness that warms you up and makes you feel better about your life." This school year, Schomburg Charter is offering a "Culinary Arts: Spain Immersion" elective that includes a weeklong trip to Spain. Emoni can dream, but she knows the class would be an impractical choice. However, at BFF Angelica's insistence, she enrolls. Amid school, work and parenting, Emoni will need to figure out how to balance what she must do with what she wants to do.
Elizabeth Acevedo (The Poet X) turns to prose for her sophomore effort. Her writing remains undeniably insightful and breathtakingly lyrical, though at 400 pages, With the Fire on High lacks the spare sharpness of X. While her characters occasionally seem predictable--teenage mother, deadbeat father, sacrificing grandmother, mean boss--the positives here win. Acevedo's treatment of teenage pregnancy is fresh and honest, 'Buela gets a secret life of her own, Emoni's solutions are especially creative, deadbeat dads can surprise you, teachers and mentors always matter. With such distinctive ingredients combined with Acevedo's already established sizable audience, this Fire on High should undoubtedly prove to be a sizzling success. --Terry Hong, Smithsonian BookDragon