The Den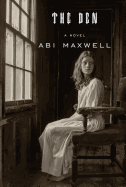 Abi Maxwell's (Lake People) second novel, The Den, features cleverly interwoven stories about two pairs of sisters on the same land 150 years apart.
In modern-day New England, sisters Henrietta and Jane, ages 15 and 12, live in an old farmhouse on the outskirts of a small town. Jane is distressed when Henrietta starts to distance herself from her family after meeting a boy from town, and she follows the young couple, hoping to get close to her sister again. One night, Henrietta disappears without a trace, leaving her parents and Jane distraught and stunned.
On the same property, 150 years earlier, Elspeth Ross lives in a small cabin in the woods with her husband, who works at the local mill, and their three sons. She hated to leave her beloved younger sister, Claire, and her parents behind in Scotland, but Elspeth was forced to move with her new husband to hide her pre-wedding pregnancy. After a series of violent incidents involving the mill owner, Elspeth and her family leave town without a trace.
These two stories are intricately connected, not only by the locations and similarities but also by a fantastical story about the Rosses' disappearance in a local book that Henrietta and Jane's father read to them over and over. In both cases, the older sisters vanish under mysterious circumstances, while their younger sisters pine for them. This intriguing story of two families separated by time also explores desire, shame and secrets. --Suzan L. Jackson, freelance writer and author of Book By Book blog